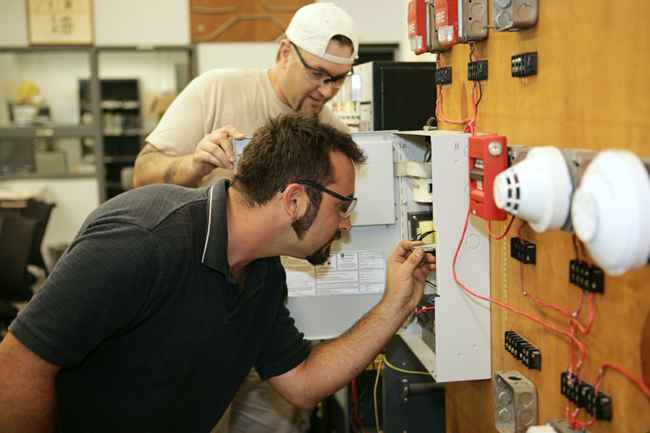 Fire Alarm Service
Troubleshooting, Cleaning, Testing, and Periodic Inspections.
Troubleshooting a Fire Alarm Control Panel represents the knowledge of the most basic Electronic laws and applications from theory to practice along with Field Experience. Periodic Fire Alarm Inspections are in most cases mandatory however they ensure to save lives by constantly having a working fire alarm system which is the ultimate responsibility of any building owner. At Linkage Fire we help maintain fire alarm systems in working conditions at all times.
OUR FIRE ALARM MAINTENANCE PROGRAM WORKS
Our goal is to assure all building owners that any given properties have peace of mind knowing their existing fire alarm system is always ready to detect any fire condition and evacuate building occupants as designed.
Our Fire Alarm Maintenance and Testing Programs avoid False Alarms, Violations, and Potential unexpected expenses. Especially if a system is old, discontinued and replacement parts are no longer available. There is always another option and alternatives.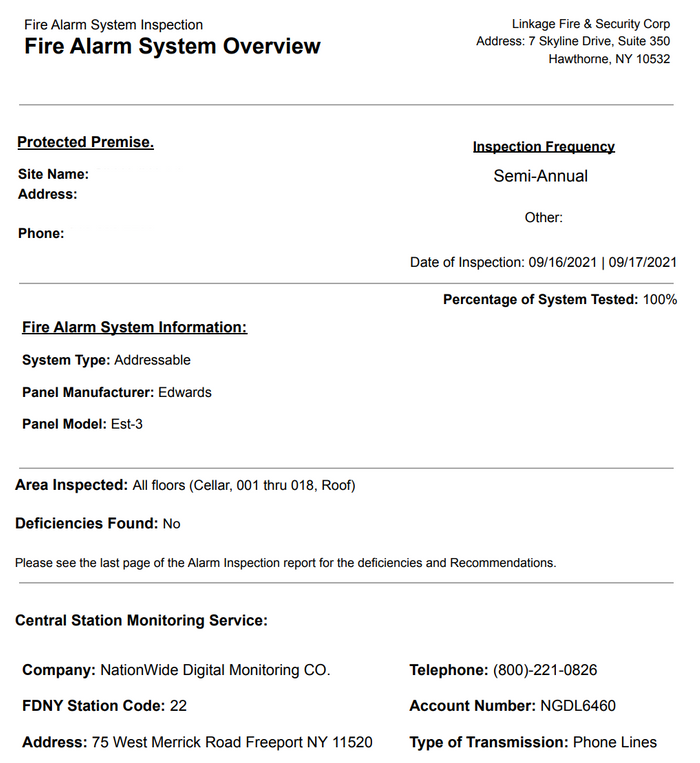 fire alarm periodic inspections
How many companies check the fire alarm system matrix of operations during annual inspections? How many companies actually clean and check smoke detectors' sensitivity? At Linkage Fire we inspect by the NFPA 72 standard.
We Ensure Fire Panel Operation per the Original Matrix of Operations as the system was designed.

We verify communication with the monitoring station as a daily task. Learn more about our Central Station.

At the time of inspection we Clean smoke detectors the proper way (Compressed air or Vacuum)

Overall inspection service as per device manufacturer recommendations.

Excellent customer service, clean technicians, friendly dispatchers, and the best management communication.
We are Open 24/7 Available for Any Fire Alarm Emergency Service Call.
fire alarm troubleshooting.
We understand that maintaining a reliable fire alarm system is crucial. That's why our Linkage Fire and Security team in New York will guide you through our meticulous process. We help to cure and remedy all violations and troubleshoot all types of fire alarm systems regardless of the manufacturer.
FALSE ALARMS: The fire Department being dispatched for UNWARRANTED ALARM false alarms will cause building owners to potentially pay high fines.

VIOLATIONS: Fire alarm system failed to comply with any regulation? Send us a copy of your violation and will work to resolve it in no time.

SHORT CIRCUITS / GROUND FAULTS: Constant troubles at the panel that are sometimes changeling to resolve. Get them fixed permanently with us!

FIRE ALARM SYSTEM TROUBLES: If your fire alarm system is always beeping with trouble conditions, you are in the right place. Contact us!

PROGRAMMING/FIRMWARE ISSUES: This is a more complex case depending on the fire alarm system manufacturer. Linkage Fire and Security have a final answer for each case scenario. Contact us for a free consultation.
Ready to get SERVICE? SCHEDULE a Free SURVEY AT YOUR FACP today!
Reach out to us today to schedule your fire alarm service and a technician will be at your site within 2 hours or Service is Free.